Jacob Collier came to do a concert at MIT as part of the CAST MIT Sounding Series. This was a massive project involving hundreds of musicians on stage and a custom web and mobile platform we built with Peter to allow Jacob to improvise with the orchestra. The system used a web-socket relay to send music notation to mobile devices formatted for small screens. The members of the ensemble would take out their phones, go to a specific webpage and be able to see in real time what Jacob was playing on his midi controller. Jacob could solo sections of the ensemble and send specific directions as well.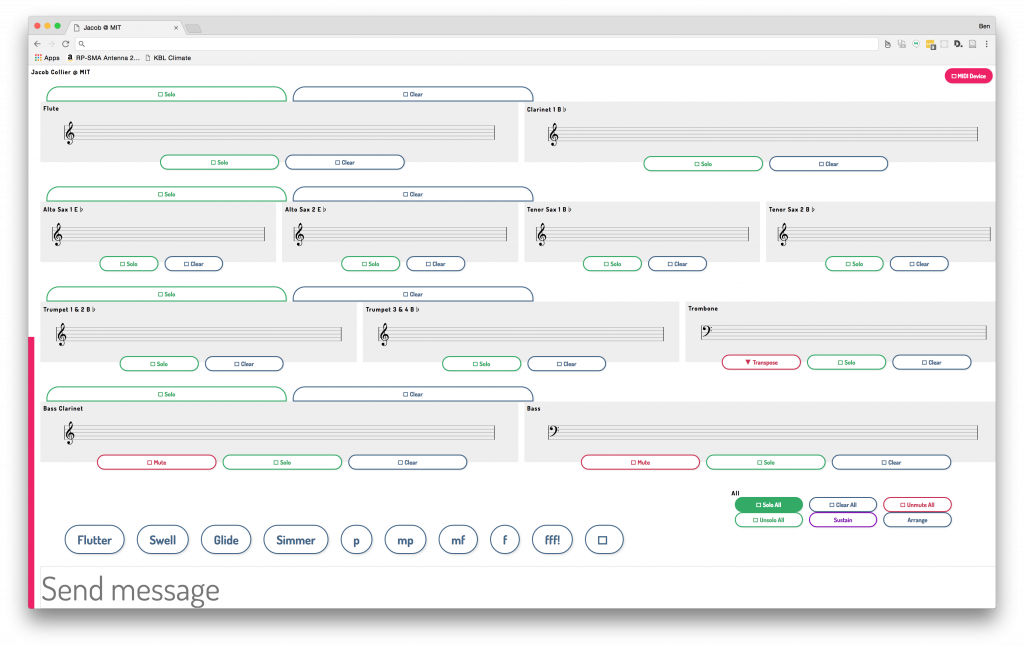 Quite a lot of work went into devising a sound system for the concert. Brian built a custom laser scanner to make a 3D model of MIT's Kresge Auditorium. We worked with Eric Ward of EYP, the architect behind the most recent renovation of the building, Erik and Michael at SGH and Neil Thomas at Atelier One to analyze the original 1954 drawings of the building.
I worked with Shawn Duncan at SAVI to use this structural information and Brian's model to design a d&b audio system with incredible performance and consistency for the room.
d&b has unique ArrayProcessing technology which was originally developed for U2. The idea is that it optimizes the performance of the PA across all the seating planes by putting different DSP on each box in the line array. You can see the plot below which shows the unprocessed system vs. a medium amount of optimization (we call it Glory-5):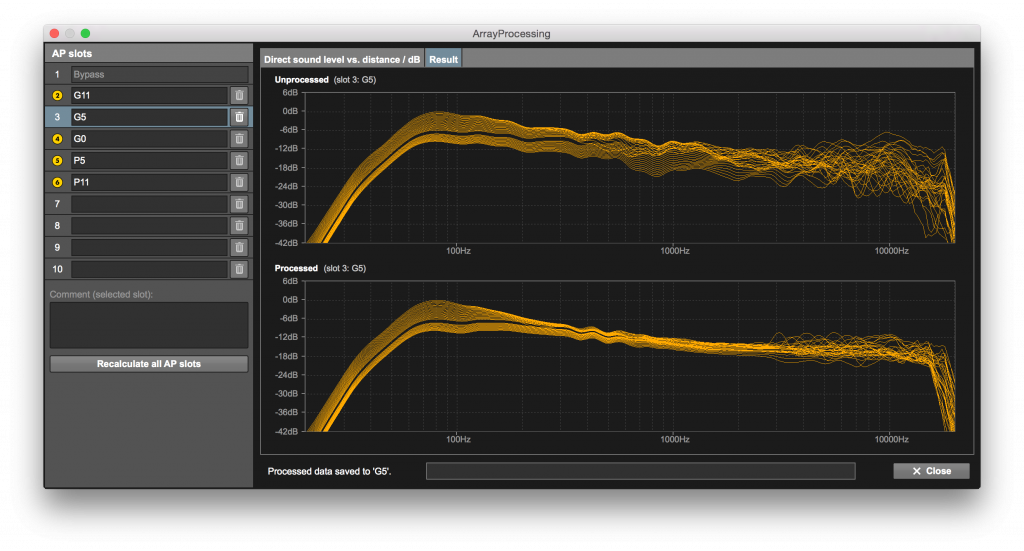 Due to constraints on the rigging, we had to place a large portion of the ensemble (strings) underneath the PA system. This meant that the ability to taylor the dispersion of the PA to exclude the stage was that much more complicated. You can see from the plots that the system was 12-24db quieter on stage. Cardioid subs (V and Y) kept low-end off the stage as well.
SSL provided an L300 mixing desk which was configured with 96 mic inputs. We were able to record the performance using two RME MADIfaceXT interfaces, Waves TracksLive and Reaper. Waveforms had to be disabled on both programs in order to allow each of the redundant machines (recent i7 MacBook Pros) to record 96 channels at 96Khz onto SSD. These recordings were used for a documentary which MIT Video Productions, directed by Jean Dunoyer, produced as part of the project:
See below for some more documentaion on the project:
FOH Magazine – Jacob Collier at MIT's Kresge Auditorium
MIT News: Behind the Artwork – Ben Bloomberg Creates Live Performance Systems for Virtuoso Multi-instrumentalist Jacob Collier
MIT Arts Photo Gallery – Jacob Collier Imagination off the Charts